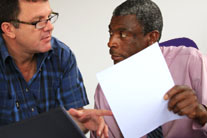 Administration is a court led procedure placing company or partnership that is or likely to become insolvent under the control of the administrator following an application by either company members or a third party such as its directors, a creditor or a secured creditor with a floating charge. The purpose of an Administration is the rescue of the company as a going concern, or the achievement of a more advantageous realisation of assets for the benefit of creditors if the company went into liquidation. An Administration must try to achieve the first of these objectives unless the second is more favourable for creditors.
The Administrator takes over control of the company ands its assets for the benefit of creditors and convenes a meeting of the company's creditors to put forward his proposal to creditors.
From 15 September 2004, an Administrator may, subject to certain requirements, pay dividends directly to creditors, including unsecured creditors, potentially reducing time and costs – returning funds to the worst effected by the insolvency.