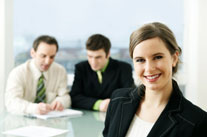 This is a solvent liquidation where a liquidator is appointed by the shareholders and the company's assets are sufficient to settle all its liabilities in full, including interest. A MVL is usually legated when the company comes to the end of its useful life and the directors wish to retire or work on new projects. The procedure is for benefit of shareholders whereby the value of the assets of the company are passed to them either in money or "in specie". The directors usually utilise an MVL for tax purposes in that the rate of tax suffered by shareholders from the sale of the business would be much less than if the proceeds of business were received via a dividend.
Sinclair Harris has conducted solvent Liquidations for both stand alone and groups of companies.
Actual Case 1
Sinclair Harris assisted a very large charity that had reached the end of its useful life by entering into a Members Voluntary Liquidation in order to comply with requirements of the German Federation Court System as well as English law in relation to distribution to be made to third-party in line with the objects of that charity.
Actual Case 2
Sinclair Harris has acted on numerous examples where the shareholders of a business which has reached the end of its useful life wish to receive their funds via a distribution from the company in order to utilise various tax advantages as well as ensure that closure of the business was dealt with in an orderly and professional matter.
Actual Case 3
Sinclair Harris was appointed Liquidator to a sports car retailer which had ceased to trade as the directors feared that the future for its market was changing. Sinclair Harris dealt with all the aspects of the sale of the showroom, property, motor vehicles, other assets and ensured that all creditors were paid in full as well as distributions being made to the shareholders of the business.
Actual Case 4
Sinclair Harris has acted for numerous multinational companies who wish to close subsidiaries as part of a re-structure of the group's business. The case often involves short deadlines and this firm's assistance in dealing with HM Revenue & Customs. We are pleased to complete these tasks at a very competitive price for these type of clients.